The Area
Away from Marton Pool there is always something to do. Go shopping in Welshpool, Newtown or Shrewsbury, ride the Welshpool to Llanfair light railway (one of the great little trains of Wales) or spend a day at the magnificent Powis Castle (which often welcomes Prince Charles as a summer guest).  The Shropshire / Wales border location makes it ideal for trips to Mid Wales and the beaches of the Welsh coast.
Out & About
For the more adventurous there is golf, fishing, walking, climbing and 'quad bike trekking' all within easy reach.  Within reasonable driving distance is Bala Lake, with a whole range of watersports and a visit to the popular, bustling seaside resort of Aberdovey, and the magnificent beaches of the Mid Wales coast are only a 45-minute drive away.
Shrewsbury
The historic market town of Shrewsbury is only 17 miles away.  The town has over 600 listed buildings including the Castle and the Abbey.  Relax in beautiful Quarry Park or take a boat trip on the River Severn.  The historic centre is a shopper's heaven packed with designer shops, smart new malls and an amazing range of independent retailers.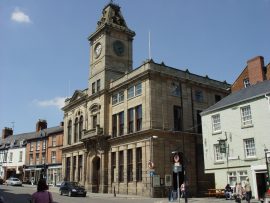 Welshpool
Welshpool has a long and colourful past. Walk the town's Heritage Trail and discover them for yourself. A unique blend of shops offer arts & crafts, fashion & leisure, fresh food & wine. Quality local produce reflects Welshpool's role as the centre of an agricultural community, promoting local crafts and items of a Welsh flavour.
Andrew Logan Museum of Sculpture
The fantasy world of the internationally renowned sculptor, Andrew Logan.
The Spaceguard Centre
Formerly the Powys County Observatory, the centre's aim is to bring the wonders of the universe to everyone in a fun and understandable way. At the same time they want to raise public awareness of the threat of asteroid and comet impacts, and the ways in which they can predict and prevent them.
Welshpool & Llanfair Railway
The railway was built in 1902 to link the rural community with Welshpool. Today the steam train journey starts at Welshpool up the steep Golfa bank, through the Banwy Valley, into Llanfair Caereinion.
Commando Paintball & Border Quadtrekking
Family run outdoor pursuits centre based at the beautiful Bulthy Hill Farm. We can cater for paintballing, quad biking, mountain biking, laser clays and much more.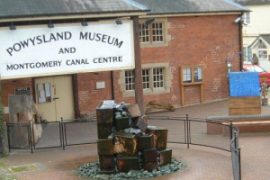 Powysland Museum
History and development of life in Montgomeryshire from the earliest prehistoric settlers to the 20th century population.
Glansevern Hall Gardens
Privately owned estate with some 18 acres of mature gardens. In an idyllic setting on the banks of the River Severn noted for collection of it's unusual trees. Other features include a lakeside walk, a water garden and vast rock garden, complete with grotto. Also art gallery & tea shop.