Our Facilities
Marton Pool is perfect for experiencing the great outdoors in the middle of a valued SSSI. The abundant flora and fauna, bird life and constantly changing landscape are an inspiration for photographers and painters. Whilst the pool is carefully managed to preserve this unique, protected environment, a number of water and leisure activities are available.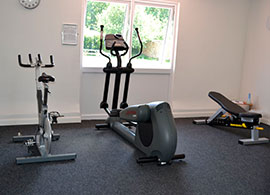 Gym
Keeping fit while on holiday
We have a stylish and modern gym facility which is entered through the information point. Our gym consists of a spinning bike, Treadmill, a cross trainer and free weights. With a beautiful outlook over looking the swimming pool you can exercise whilst admiring our view. With a coded entry door
Swimming / Tennis / Bowling / Play
Our wonderful on-site facilities
Other on-site attractions include an outdoor, heated swimming pool where you can simply relax or enjoy the benefits of a gentle swim. The adventure playground is a paradise for children, with a climbing frame, and other activities all in a safe environment.
If you're feeling energetic, the whole family can enjoy a game of tennis on our full size all-weather court or for a more leisurely form of exercise, why not try your hand at bowling? At the rear of the park, you will find our bowling green and pavilion and a wealth of expertise from some of our home owners who would be delighted to offer instruction and support to novices.
In the next field, football nets provide a fantastic opportunity for children and adults alike to let off steam with a game of 5-a-side!
Fishing
Catch one of our giants
Well stocked with coarse fish such as roach, rudd, tench, bream and eel, the pool is a delightful place to fish, from boat or jetty. In the deepest recesses of the pool also lurk the pike that gave Marton a modicum of fame in the late 20th Century. The largest known specimen of pike caught in recent years is a 28 ½ lb fish landed by a local fisherman, which has been preserved in a wall-mounted display. Access to Marton Pool for fishing is exclusively reserved for holiday home owners. Please note, that due to its SSSI status, the pool is closed for fishing between 15th March and 16th June. This is to allow natural breeding to take place.
Sailing / Rowing
A timeless way to relax
Sailing is one of the best ways to unwind. The fun and relaxed atmosphere at Marton makes it a great location to take to the water whether with sails or oars. This is an activity that all the family can enjoy and we welcome canoes, kayaks, rowing boats or sailing dinghies on the lake. Parking is right next to the water's edge so it is easy to launch your boat with no restriction on 'time on the water' during our opening hours. Because of the lake's SSSI status, power boats are not permitted but 4-stroke or electric outboards to a maximum 3HP are allowed.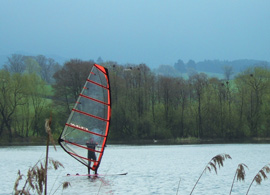 Windsurfing/Paddleboarding
Our lake is fresh, clean and safe
If you are looking to try one of the best water sports out there, then bring your own board, catch the wind and glide over the surface of our stunning lake. All you need to bring is yourself and a sense of adventure… and perhaps a wetsuit – for those cooler summer days! We also have Canoes and Kayaks which can be used free of charge.